Evolution of TIG's MTL Community
"Languages, with their complex implications for identity, communication, social integration, education and development, are of strategic importance for people and the planet."

—UNESCO, International Year of Languages 2008
History of the MTL Community:
According to UNESCO's Estimate of Language Content on the Web, no less than 72% of the content available on-line globally is written in English and, as a consequence, 90% of the world's languages are not substantially represented on the Internet. Languages, however, are at the heart of an individual's culture, identity and social context and for this reason play a pivotal role in preserving diversity, promoting personal expression and encouraging intercultural exchange. When promoting important issues like youth empowerment, and when raising awareness on global issues, it is therefore important to recognize the value and the role multilingualism plays in facilitating change and in ensuring that policies aimed at promoting social justice are inclusive and reflective of this diversity.
With members in over 200 countries, TakingITGlobal understands the importance of developing a multilingual platform that is accessible to all users and of providing a resource to showcase local opportunities, expressions and perspectives that truly reflect the diversity of our network. For thousands of young people around the world, TakingITGlobal's on-line community provides a gateway to youth resources and opportunities as well as collaborative tools to support social action and community development.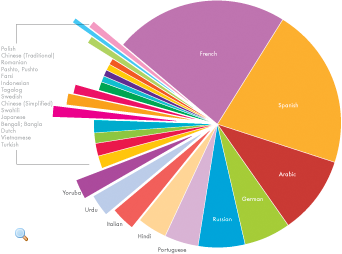 It is precisely our multilingual capacity, combined with the use of ICTs, that makes our community different from its numerous global counterparts. However, we also understand that programmes and opportunities offered by participation are only relevant to young people if they are in several languages and reflect what is happening in local communities. The development of TakingITGlobal's multilingual capacity represents an incredible opportunity for our members to gain a unique perspective on any given country and helps foster a sense of global awareness, collaboration, cultural understanding, leadership and initiative among youth in local communities and around the world.
The multilingual model that underlines the development of unique versions of TakingITGlobal.org in local languages has a number of unique characteristics: its focus includes not only the translation of the framework of the website into local languages but also soliciting and encouraging original content in languages other than English submitted by TIG members, effectively allowing our members to give visibility to their culture through our international platform.
---
Language Launch Timeline
TakingITGlobal's multilingual content is either static (i.e. Content developed by the TakingITGlobal staff) or dynamic (i.e. User-generated content.) At TakingITGlobal, we have the privilege of collaborating with over 100 dedicated virtual volunteers who help us translate our static content into 12 languages (and more!) Our dynamic content, like our TIGblogs, is available for automated translation thanks to the kind donation of Worldlingo, a language translation service operating in 141 languages.
Content on TakingITGlobal can be submitted in any language, even "unlaunched" ones. Blog posts, Global Gallery artwork, and Resources can all be submitted in the user's language of choice, and can be featured in our Regional and/or Country pages if a country is specified in the submission form.
To learn more about TakingITGlobal's various site components, please visit our Site Map.
2000
2004

French
Spanish
Russian
Arabic

2005
2006
2007
2009 - 2011

German
Bengali
Farsi
Swahili